CityCamp Colorado 2012
Details of CityCamp Colorado 2012: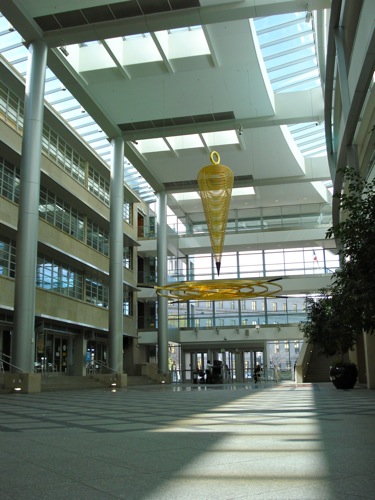 The 3rd Annual CityCamp Colorado unconference was held on Friday, October 26, 2012, in the Atrium of the Wellington E. Webb Building of the City and County of Denver.
We brought together people like yourself to share ideas to enhance government transparency, citizen participation, and accountability, which will support more informed, healthy, livable communities.
We built on the success of the Code for Communities Hack-a-thon and other exciting developments in the tech and civic communities in Colorado.
Denver Startup Week and CityCamp Colorado
We partnered with Denver Startup Week to host the social track breakfast.  At 9, we kicked the day off right with coffee and inspiration with Ignite CityCamp Colorado. This, was our third ignite,  celebrated ideas and innovations that are transforming our communities. We had eight presenters provide thought fuel for our day. Ignite CityCamp Colorado has made every other camp one of a kind and this year will continue to raise the bar!
A Unique Venue Meant a Unique Camp
The Webb Atrium is a wide open public space, which made for an engaging and accessible camp.  Because of the nature of the space, we ran two tracks: one with programed speakers, demos, and panels (on the main stage), and a second unconference track.
2012 CityCamp Colorado Schedule
8:00 – Registration
8:30 – Denver Startup Week Breakfast & Networking
9:00 – Ignite CityCamp Colorado – list of presenters
10:00 – Remarks from Denver Councilwoman at-large Robin Kniech
10:15 – Remarks from Denver CIO Chuck Fredrick
10:30 – Roadmap 2013 - OpenColorado and Code for Communities will announce the 2013 agenda
11:00 – How Gov 2.0 Can Improve Customer Service – Sid Burgess from DotGov
11:30 – Denver's Peak Academy – Scotty Martin, Business Process Improvement Manager
12:00 – Lunch
1:00  – Demonstration of Endpoint.co – Code for Communities App Winner
1:15 – Demonstration of OpenBike – Code for Communities App Runner-up
1:30 - Demonstration of Colorado Data Engine
1:45 – Demonstration of CityCycle
2:00 – Unconference Update
2:15 – Demonstration of Bill Track 50
2:30 – Break
2:45 - Unconference session
3:15 – Demonstration from Denver's Excise and Licensing Department's new electronic services
3:30 – Demonstration of Colorado Information Marketplace Mobile App
3:45 – Unconference Update, Next Steps, and Closing
See the full line-up of presenters.

Attendees (95)
Bonnie Gross
Downtown Denver Partnership

Adam Cherevka
City and County of Denver / Technology Services

Maureen Crandall
City and County of Denver

William Brohl
Citty and County of Denver

Charles Ferrell
CCD

Karen Kelley
City and County of Denver, 311, Technology Services

Steve Hockett
City and County of Denver

John Ham
City of Loveland

Hanh Bui
City and County of Denver/ Denver GIS

Thirza Kennedy
Governor's Office of Information Technology

Chris Christmas
trakkin

Aaron Gabler
City of Denver

Tracy Eiden
MyMobileCS.com

Becky Kessler
Adams County

Jennifer Cyphers
Pynwheel, Inc.

Tessa Carter
WorldDenver

Brad Dodson
City & County of Denver

Daniel Ford
Colorado.gov

Kristi Felts
Cedar and Sage Colorado

K Cornwell
Historic Denver, Inc.

marcus bronson
wormy

Alex Kirsch
Commerce Kitchen

Tracy Jones
Commerce Kitchen

Kathy Hicks
City and County of Denver

dar coumans
WESTAF: Western States Arts Federation

Jeanne Holm
Data.gov

Frank Conway
Silicon Valley Bank

Ilima Kane
Klein Buendel, Inc.

Colleen Burke
Esri

Rachel Davis
Kiva.org

Amy Beth Herman
Sogeti

Shelley Cook
City of Arvada

Melissa Carey
City of Lakewood

Gabriel Conners
Pegasus Investment Network

Ivy Hughes
Confluence City

Matt Blomstrom
South Suburban Parks & Recreation

Tom Charkut
City of Lakewood

BARBARA HALPIN
BOULDER COUNTY

Larry Hibbs
City of Aurora

Mark Church
Colorado Interactive

Nik Brockman
Boulder County

Elizabeth Chandler-Vos
Colorado.gov

Don Ingle
City of Boulder

Jim Duncan
State Library

Steve Gregory
State Library

TONY DUDEK
PROMATICS, INC.

Steve Johnson
City of Grand Junction

JC Hoot
why

Lydia Hooper
Denver Public Works/Earth Force

Kevin Curry
Code for America

Tim Hochman
Lark Information Technology, Inc.

Kelly Dwight
Innovation Pavilion

Bill Jeffrey
City of Westminster

Debra Hill
City of Pueblo

Bobby Cuomo
City of Pueblo

Gabe Hamilton
SkuLoop

Daniel Hauser
City and County of Denver

Chuck Fredrick
City & County of Denver

David Edinger
City & County of Denver

Georgia Howard
City & County of Denver

R. Shawn Bleam
Boulder County

Frank Fields
Town of Deer Trail

Noel Hidalgo
New Amsterdam Ideas

Kevin Buecher
Kevin Buecher

Christine Binnicker
City and County of Denver

Conrad Gonzales
Boulder County

Brad Laing
City and County of Denver

Julia Griffith
Klein Buendel Inc

Sean Hudson
Vermilion

Bryce Batchman
CCD TS GIS

Marsha Evans
City and County of Denver

Chris Haller
Urban Interactive Studio

andy ennamorato
Integrity Apps Inc

Jason Hibbets
Red Hat

Oza Klanjsek
CityCycle

Tom Chase
City and County of Denver

Allan Glen
City and County of Denver, OpenColorado

Jacob Anderson
City of Colorado Springs

ian harwick
Ian Harwick Coaching and Consulting

Shelly Drumm
Commerce Kitchen

Jamie Hollier
Commerce Kitchen

Michael Hinke
University of Colorado Denver

Chani Goering
City and County of Denver

Sean Curley
City & County of Denver

Sunlight Foundation
Sunlight Foundation

joanne cheng
Absolute Performance

Linda Hawkins
Adams County

Sara Harmer
Office of the Clerk and Recorder/ City and County of Denver

Sid Burgess
DotGov, Inc.

Leslie Labrecque
City of Boulder

Susan Christophersen
Boulder County

Jason Lally
PlaceMatters

Michele Hovet
City of Arvada

Holly Gorman
Committe to Elect Holly Gorman

Brian Gryth
OpenColorado